Sound Designer Spotlight: Panu Rauhala (PRauhala)
This time we introduce to all of our blog readers an extremely talented and hardworking composer and sound designer who's been getting quite amazing number of great projects under his wing lately. Panu Rauhala, also known as PRauhala, let us know a bit more about his background and future aspirations.
First, could you tell us something about your background. Where are you from and how did start creating music?
Hi! I was born in small town called Vimpeli, Finland, but I have been living in Helsinki for 5 years now. My siblings are musicians also so music was present all the time. I remember getting excited more from music by hearing rock/metal bands like Yngwie Malmsteen, Pantera, Metallica etc at the age of 7 or something. That time I also attended Pop&Jazz camps many times. There was excellent teachers so that was inspiring time back then – and that's probably the time I also started creating music, mostly with Guitar Pro! After that I've been to Kaustinen College of Music, Pop&Jazz convervatory Helsinki and currently continuing my studies in Metropolia Helsinki composition department.
What's your work environment like? Is it a home studio? Furthermore, what kind of software and hardware are you using for music production, and do you play any instruments?
Yeah, I have quite a compact home studio where I make most of my stuff. Sometimes some projects need a professional studios (recording drums for example), so that's when another place is needed.
I'm using for example Novation Mininova, Roland Jupiter 50, Yamaha Motif, Korg SV-1, but when making music for video, virtual instruments are the best, because there will be changes to make all the time. Just easier to edit. My favourites recently have been Absynth 5, Heavyocity Evolve, Z3ta 2. Addictive drums… Well there are so many good ones, but I rely on Native Instruments, Eastwest and even some free ones! Also sampling has given new inspiration lately! I also own a guitar, but I rarely need that :). Yes, I play piano/keyboards (for a living..), and really poorly guitar, bass, drums and vocals :D.
What is your favorite music genre? (We know this is a tricky one!)
Indeed, this is a tricky one! I dont like to talk about favorite "genres", because I like good music (good music to my ear..). I grew up listening progressive metal like Symphony X, but later listened really much Jazz/Fusion and so on. To get the point what I mean I've been recently listening Prokofiev, Bartok, Sting, Muse, Bruce Hornsby, Siriusmo (thanks Tommi!), the norwegian band Shining.. Did that answer the question at all?:)
You're also playing keyboards in the heavy metal band "For The Imperium" and even played as a warm-up act for Devin Townsend Project in the UK. Can you tell us a little bit about the future plans for the band? Also, does the band inspire your work with production music and vice versa?
That's true. We're writing new material at the moment and of course it would be great to get gigs from Europe and outside Finland. So that's a one future goal. Well it sure have helped with production music – sometimes to think "outside the box". But production music has also helped me to create better sounding demos for the band.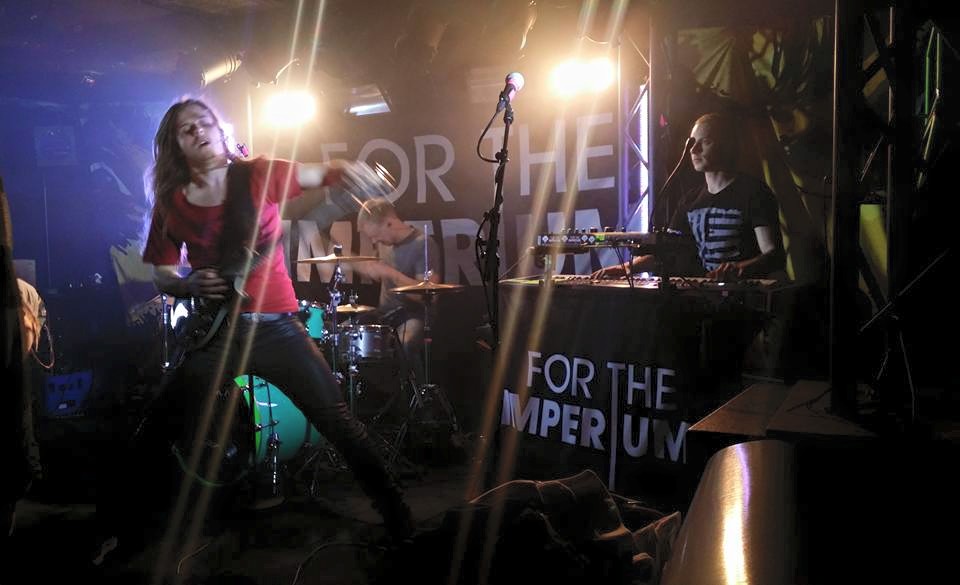 What's your process in writing and composing a new song? How do you start something from scratch? 
It just depends so much what I'm doing. If something groovy is needed, I would experiment with different beats and rhythmic stuff for example. If writing some orchestral song, I would make strong motives and melodies that can be varied on many ways. Usually nowadays I have an idea where the song is used or what kind of mood I want to achieve.
Has AudioDraft been helpful to your music career? How has your success motivated you in your music career?
Definitely. Opportunities to make music for major advertising agencies and brands is really inspiring and motivates you. Audiodraft has given great chance to get to production music business.
Would you like to say something to the AudioDraft community?
Yeah. Keep up the good work!
Thanks for your time, PRauhala. Wishing you good luck with your future compositions and projects!
Listen to music by PRauhala by following these links: