Audio Do's and Don'ts Learned From This Year's Cannes Lions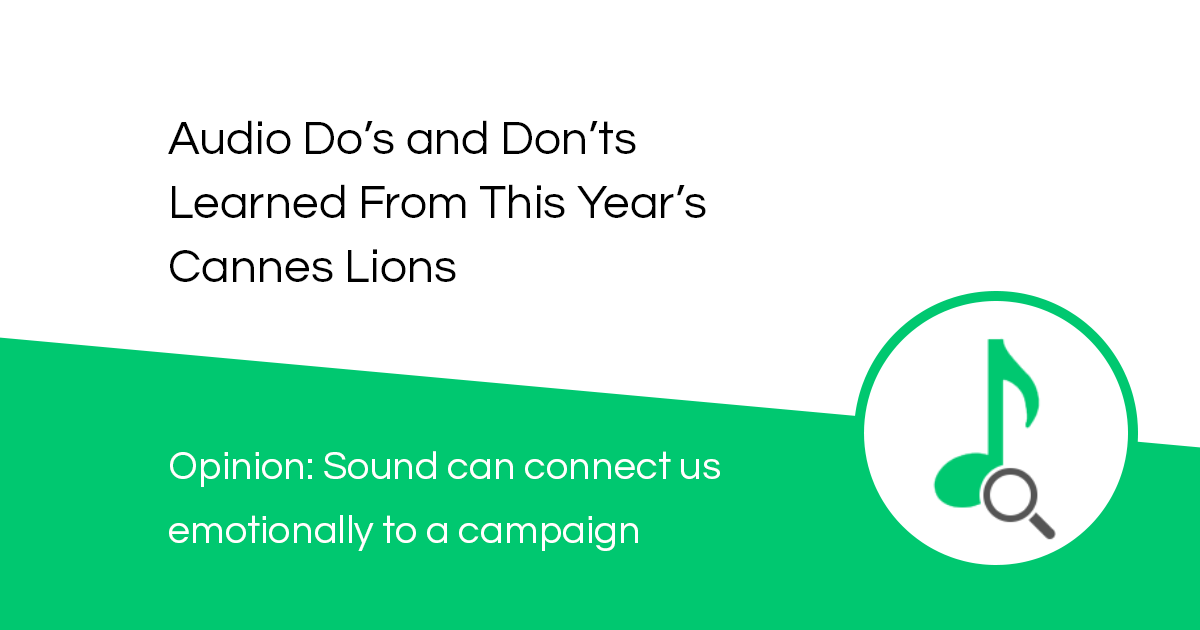 This article was originally published in Adweek.
As media all over the world breaks down the aftermath of Cannes, conversations seem to revolve around one word specifically: purpose. From the audio branding industry perspective, it's hard not to feel like Mr. Burns about it: Excellent.
This is great news because sound's ability to transcend something as intangible as purpose to create palpable brand appeal is remarkable. The following picks from this year's Cannes prove this to be true. Furthermore, they show why choosing the right sounds are pivotal to your brand's emotional delivery.
If you want your message to resonate, DO start with sounds you make organically
The New York Times' campaign "The Truth Is Worth It" sheds light on the value of investigative journalism and its pursuit for the truth. This campaign is a perfect example of how audio choices can drive such an important cause, as the soundscape helps viewers peek inside the buzzing minds of reporters.
The sounds of frantic keyboard tapping and phone interviews help paint the picture of a journalist working on a story. Add some highly suspenseful ambient sounds to the mix, and the emotional workload of these professionals becomes palpable. They are driven with the desire to bring the people news they deserve to know, even if it requires uncovering disturbing facts and putting their own safety at risk.
Combining organic soundscapes with an apt musical delivery is a brilliant way to demonstrate journalists' rigorous work ethics. More importantly, it helps readers understand the pressure they experience in their quest for telling the world the truth. The NYT may have just taken over an entire industry soundscape for years to come.
DON'T shackle yourself to traditional marketing routines

The Super Bowl is one of those times of the year when the biggest brands in the Western hemisphere come together to flex their advertising muscles. However, only a few brands showed up like Skittles—which actually didn't turn up at all. On the game day, the brand skipped the TV ad shtick to debut Skittles: The Musical in front of a sold-out crowd. By performing songs like "Advertising Ruins Everything," the brand sent a strong message about not taking yourself too seriously while breaking free from the norms of advertising.
For those who couldn't attend the show, the company released the full album on Spotify. The album even features a four-minute recording of the lead actor Michael C. Hall just eating a bag of Skittles. Hey, how else are you going to market the sounds your products make?
Anyone who's watched more than 15 minutes of the Big Game knows the breaks are chockfull of ads. This makes it really difficult to stand out and get returns on those rather huge investments. By embracing live music and going literally outside the box and into the limelight of Broadway, Skittles managed to reinforce their fun and self-ironic identity in an honest and, most likely, more economical way.
If you want to shake up your audience's ears, DO resort to extreme measures
This one is a classic case of how to revamp a branded theme song to suit different marketing messages. The ad's main character, Hiyoko-chan, is a popular cartoon bird in Japan, similar to Loony Tunes' Tweety Bird. "Akuma No Kimura" kicks off with its classic jingle while an innocent-looking mascot holds a pot of noodles. Next thing you know, the little chick morphs into a devilish bird of prey, and all hell breaks loose both visually and musically.
Nissin's lukewarm folk tune explodes into a scorching death metal headbanger in a matter of milliseconds, leaving no viewer cold. Even though metal is far from mainstream as a style of music, it works perfectly for advertising something called Evil Hot Noodles. It also adds heft to the vulgar animations.
From a brand as safe and sound as Nissin, the ad is a bold and unexpected move, which brought them a bronze Lion from this year's animation category. (As a fan of heavy music and Asian food, I can endorse this particular method of selling noodles, too.) On a more serious note, when your audio branding elements are in place, even the most family-oriented and down-to-earth brands can stun audiences and win over fans with edgy musical choices.
DON'T throw stones if you live in a glass (grill)house
Burger King has done a brilliant job of roasting their archrival McDonald's in recent years. While they really turned up the flame this year, the brand is still missing prominent audio assets, which McDonald's have had for years, with the "I'm lovin' it" melody at the forefront. Therefore, in spite of successful campaigns such as "The Whopper Detour" and "Birthday Clowns," in the audio market, The King is still losing to Ronald McDonald in relevance and recognition.
The situation gets acute especially in audio-first mediums such as smart speakers where there are no visual assets at play. These devices could soon become common means for ordering fast food and learning about campaigns. Without consistent use of sound, it will be harder to match the share of ear that McDonald's has established over the last decades. In order to reach their place in the branding podium, the final ladder for Burger King to climb is to create a more coherent and unique audio identity.
If making fun of clowns and Big Macs is your sworn purpose, audio can help there, too. In sports, for example, it is very common for fans from rival teams to chant mocking songs at each other. The more passionate the rivalry, the more these songs stand time as they are passed on from one generation of fans to the next. It's time to unite the Whopper faithful around the world with the power of music.
As the smoke settles in the burger battlefields and Cannes arena, the audio marketing industry is left with excitement. From musicals to Elton John teaming up with John Lewis to spectacular sound design, the wealth of creativity on display this year was immense. The future of audio is looking bright, but this is only the beginning.
Sound can make our brains release hormones, changing our feelings instantly and connecting us emotionally with different people and causes. If Cannes and its marketing takeaways are to be believed, the key to winning a Lion next year is making more informed decisions on the types of sound your brand uses in its campaigns.