How to get invited to more productions
Do you feel like you are not selling enough music on Audiodraft or perhaps you are not getting as many invites to private project as you once were? If so, read on to find a potential reason for this drop in work.
Audiodraft uses a system of tags to organise our instant tracks library and sort our talent into their areas of speciality. Tags come in four flavours; Genre, mood, instruments and sounds like.
When you upload a track to Audiodraft, these tags are stored in our database. When a client approaches with a new brief, we use these tags to match them with the most suitable producers.
Let's look at an example. One of our client's, let's just call him "Jimmy", asks for an upbeat and modern sounding instrumental composition.  Jimmy has provided us with a "Folk" genre reference video along with a specific request for a piano and an acoustic guitar. To find the best producers for this project we will search for talent with the following tags:
Upbeat, modern, instrumental, folk, piano, guitar
Users with the most tags fitting those search criteria will appear in higher in our search results.
If you have 5 tracks all of which have Piano and Guitar listed in the instruments section, and one of them also has the "Folk" genre tagged, you will appear above someone who has 30 folk tracks uploaded, but only has 5 of them partially tagged.
Correctly tagging your music helps us figure out what sort of musician you are.
If you do not take the time to tag your tracks, you run the risk of missing out on more work.
Producers who use more tags get more work, it's as simple as that. Using tags helps us sort and organise producers and their work.
OH NO! I have not tagged any of my tracks!
It's ok, don't panic. You can back date your current catalogue with tags so that the net time Jimmy comes looking for talent, you appear in the search results. To update your tags follow the following instructions:
Log in to your account and go to "My Dashboard"
Click on "Instant Tracks"
Click on "Edit" for the track you would like to add tags to

Once you have added up to 5 of the most relevant tags, then click on "Save Changes"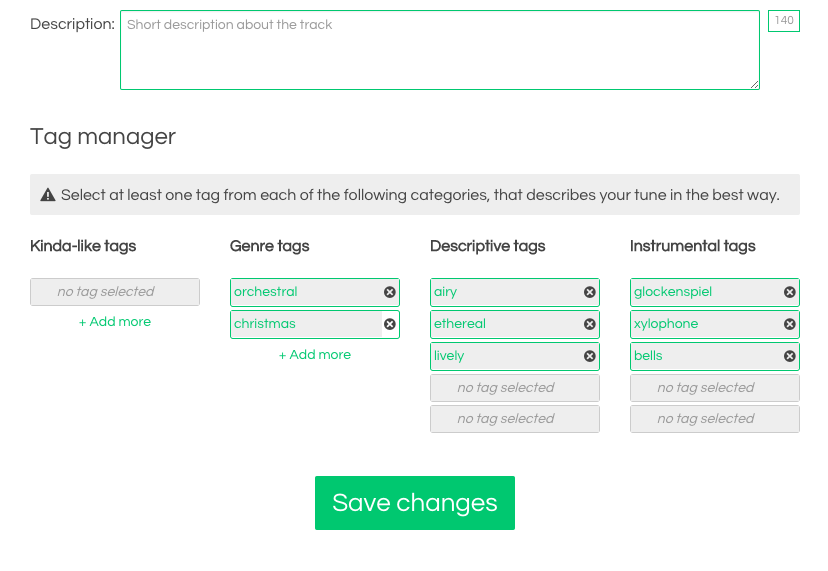 Tips for Good tagging:
Keep the description simple and relevant to commercial purposes.
Try to tag your music using existing labels.
Use tags a layman would use to describe your music, this increase your discoverability.
Avoid using your private artist name in the "Sounds Like" section.
Avoid posting obscure genres, Audiodraft is not a record label, we focus in commercial music.
List all the instruments you have used in the production.
Weight entries properly and accordingly.
Taking an extra 30 seconds to properly label and describe your music is possibly the single biggest thing you can do to get more work.