What does an annual report sound like?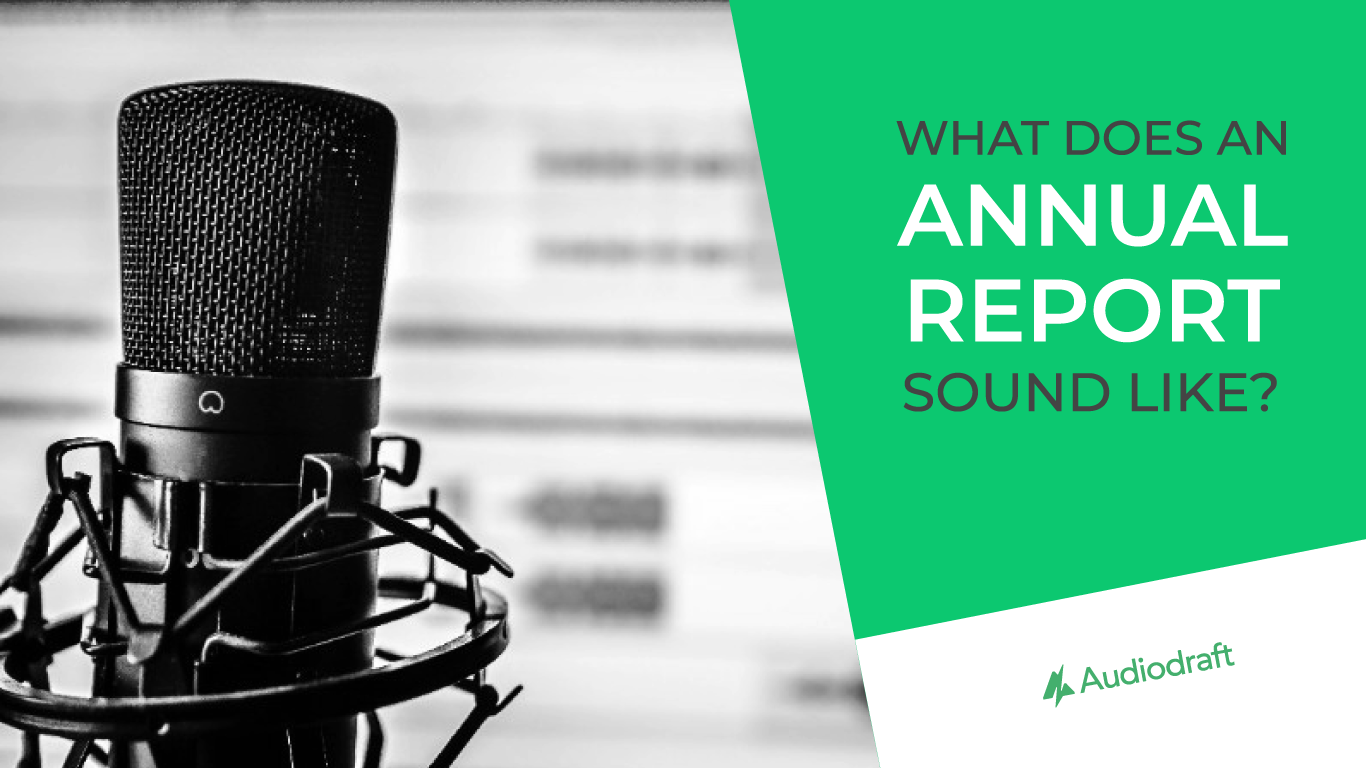 For businesses, audio presents a perfect tool for introducing a breath of fresh air into officious and, let's face it, boring publications and events such as annual reports and meetings. What if each year companies were able to attract a significant amount of new shareholders by presenting their annual results in an entertaining, easy to access and modern format?
The spectacle begins with a distant Brian Eno -style ambient track building up in the background, while the CEO describes the inspiring work their staff have done over the year and how their company culture links to their reason for existence in his letter to shareholders.
The rising intensity levels out for a bit, as we proceed to the MD&A, which is presented as a discussion. The management reflects on the changes and trends of their industry, as well as their personal learning points from the past year, while a lingering synthesizer beat carries on. As a result, these renowned business professionals turn into individuals like any other, with personal highs and lows, bringing down the barrier of formality between Company and Investors.
The music really kicks in during the business performance review. The drums come in with a bombastic fill to take the intensity from minimal chord layering into a full-fledged song with complete instrumentation, creating gentle resonations in the listeners speaker systems. The essential performance numbers about balance, income cash flow and, most importantly, changes of the shareholders' equity are itemised while the music highlights their brand attributes and the past year's performance results.
The entertaining four quarters
What if Amazon's shareholders were able to listen to Jeff Bezos delivering his letter to them as a podcast-style audio recording? It would be quite a fitting scenario as Alexa and Echo's success has made the company the unofficial ambassador of the digitally powered audio-first world.
Many companies are yet to dial into audio, which presents a great opportunity for the first major players to stand out in the public eye. Here are a couple of factors to back this:
1) Audio reaches new audiences
The recent surge of sound-driven mediums is proving that audio has potential to skyrocket the interest level of lengthy and traditionally visually based content through the roof. Over a quarter of Americans are now listening to podcasts on a regular basis. In the U.K, audiobooks are now selling twice as well as they were doing five years ago.
The interesting detail rising from these statistics is that the newcomers are not eating away the market share of their physical counterparts, like books and magazines, but rather introducing new people to a new medium. When thinking of annual reports, what if each year companies were able to attract a significant amount of new shareholders by presenting their annual results in an entertaining, easy to access and modern format?
2) Audio makes them more digestible and relatable
The ease of streaming through smartphones, tablets, smart speakers and connected cars, can introduce new ears to the message of the PLC. The intimate environment created by podcasts and audiobooks establishes a sense of self-identification, admiration and has the potential to bring investor loyalty to new heights.
Thanks to the intimate environment and enhanced recall that audio is able to facilitate, the shareholders can connect with the company philosophy, aspirations and dedication in an unheard-of level.
3) Utilizing audio presents advantages now and in the future
Interestingly, not many companies are yet to make the leap from visual to audio, which presents a great opportunity for the first major player to stand out in the public eye. The full potential of audio in colouring traditionally black and white content is, therefore, yet to be discovered, even though the ball of yarn has started to unravel.
With audio gaining a foothold in ever popular streaming platforms, interesting stories, data, information, emotions, thoughts, ideas and innovations can weave together in a unique, custom touch like a Persian rug of audio, while maintaining the functionality of an Ikea product. In fact, audio and voice are forecasted to strengthen their tone as the future common thread in online technologies.
Underlining the role of audio in communication will be paramount to the future, as the digital native generations will be the ones to continue the legacy of those doing business today. Converting publications and events like annual reports and meetings to the digital habitats, where people of today and the future will settle in, will give any business a head start to creating more sustainable customer connections.
Thanks to the trend that audio is setting, it's only a matter of time before we might very well hear the voice of the likes of Mr. Bezos resonating in our Bluetooth earplugs and smart speakers.
–
Thinking about starting a podcast? Or are you already on the air? Our Podcast Production Pack offers help for both beginner and advanced podcasters. We'll give you direction on format, content, setup and sound quality to guide you through your podcasting adventures from start to finish.
Did you find this article helpful? Be sure to subscribe to get inspirational and insightful posts about how to connect with your audience on an auditory level.